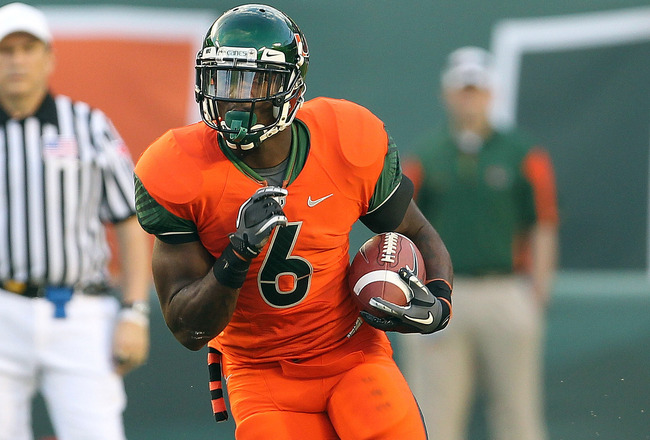 Mike Ehrmann/Getty Images
With the deadline to declare for the NFL draft soon approaching, most Miami Hurricanes fans anxiously await the decision of redshirt sophomore running back
Lamar Miller
. Will he choose to stick around with the 'Canes for another year—and the chance to fine-tune his game—or will he take the money and run?
This is a tough decision.
According to Miller, he would only choose to enter the NFL draft if he were a projected first-rounder. However, following Miami's 24-17 loss to Boston College, he may have run himself out of the top round. When asked if he would leave for the draft as a potential second-round pick, Miller
said
: "I don't know. I'm just going to talk to people. I haven't really been thinking about it yet."
We, the fans, would love to have Miller carrying the rock for one more season. After all, there is always room for improvement. Miller struggled this year in terms of proving that he can carry the ball 20+ times a game.
Miller also needs to work on his conditioning, something that head coach Al Golden has emphasized repeatedly since he was hired—that goes for the whole team, not just Miller. Miller was plagued by minor injuries all season, and in order to make it in the pros, one has to be well conditioned.
Miller admits that he has to
get stronger and faster
. Returning for another year would certainly allow him to do so. It would allow him to not only become stronger and faster, but also to improve on the fundamentals, such as receiving, blocking and technique.
On the flip side, one cannot blame Miller for wanting to take the leap into the NFL. This is the ultimate goal for all college athletes. When the opportunity is there, it is only the next logical step, right?
Besides, with all that looms over Miami (i.e., sanctions), now may be the best time for Miller to declare for the draft.
There is no question that Miller's departure would affect Miami's backfield. He is an electrifying player. But there is always someone who will step up. Miami will be fine at running back with Eduardo Clements, Darion Hall and Mike James—not to mention Duke Johnson and Danny Dillard.
The decision is up to Miller. What more does he need to accomplish at the University of Miami? He is already third in UM's record book for single-season rushing records, right behind Willis McGahee. Considering Miami hasn't had a 1,000-yard rusher since 2002, this is quite the accomplishment.
According to Miller, there is at least one reason to return:
"I always wanted to win a national championship and ACC championship.
That was my main goal, just to get a ring. I'd still like to do that."